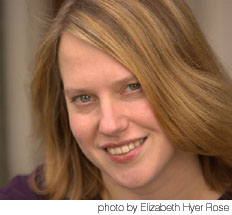 I grew up in Pennsylvania, and always knew I wanted to be a writer, but I wasnít exactly sure how to go about it. So when I graduated from Tufts University, I moved to New Orleans because one of my favorite writers, Ellen Gilchrist, was from there and I thought I might soak up some inspiration from living there too. Instead, I spent my evenings bartending and my days writing really bad poetry and collecting rejection slips.
After a stint in New York City as personal assistant to an actor, I went down to Mexico to do research for a screenplay I was writing. I ran out of money before I finished the script, so I headed back to New York and landed a job as script coordinator on "Sex and the City." I was thrilled when I was asked to write an episode for the final season of the show. In the meantime, I started working on my novel, "POP!", and wrote a one-woman show which was performed off-Broadway as a part of the Double Helix Theaterís One Festival.
When "Sex and the City" ended, I moved out to Los Angeles and wrote for "Veronica Mars" and "Courting Alex." I also wrote a pilot called "Pure Sunshine" for Sony Television. Iím currently working on a new Fox drama called "Wedding Album."
As much as I love New York, Iím happy to be settling down in Los Angeles, especially because I was able to get the best roommate a girl ever had: my dog Tuesday!